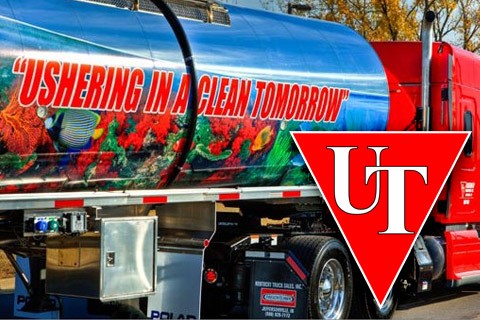 Usher Transport, Inc.

Company Description
Usher Transport, Inc. is a family-owned and operated business Headquartered in Louisville, KY. Usher Transport's inception was in the late 1940s with a handshake deal between Harlan Usher and Mr. Putnam establishing the Usher fleet. The company is currently run by the Third Generation of the Usher family with the Fourth Generation already in the wings for training as we celebrated our 60th anniversary in 2006.
The company's current role in the tank-transport industry is that of both chemical and petroleum transport. A large portion of our business deals with the safe and efficient transport of petroleum products such as gasoline, diesel fuel, aviation fuels, bulk oils, and solvents. We manage the fuel inventories at a large number of gas stations for our customers, allowing them to concentrate on other aspects of their business besides transportation.
On the chemical side of the house, we transport all types of corrosives, oxidizers, and flammables, giving Usher Transport the experience to handle a diverse range of your bulk product transportation needs.
We specialize in short and midrange loads that are time-sensitive and usually within a 500-mile radius of one of our terminals. We do however, make routine deliveries to the West Coast, Canada and run dedicated equipment for customers who require it. Usher Transport's customers range from Fortune 500 Chemical and Oil Companies to a number of smaller distributors and jobbers.
The company is made up of approximately 300 units comprised of company and owner-operator tractors pulling over 300 Usher owned tank trailers. The trailer fleet includes state of the art Petroleum, Dry Bulk, General Chemicals, Rubber Lined and Composite Acid Tanks. We have an experienced support staff based in various terminal locations throughout our operating areas to more immediately meet your needs. The Usher name is synonymous within the industry for longevity, safety, and superior customer service.
Our continued growth and success are due largely to our dedication to the customer's needs and attention to detail. Few carriers in today's market are willing to extend the extra effort it takes to put the personal touch back in this business, which often seems to be nothing more than a numbers game. If you would like to receive traditional, honest, values-based service descended from that original handshake deal with Harlan Usher and that can only come from a family-owned business dedicated to the need of their customers, call the company whose motto is "Our Only Product is Service."
If what we have to offer you as a company matches something you've been searching for, let us show you how Usher Transport can provide a quality of service like none other.
Categories
Fuel Management

Tank Transport
To Top